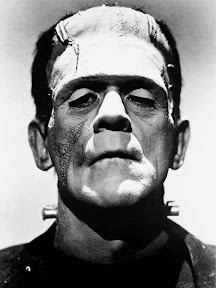 No the above is not a picture of our ex manager Dowie the mad rocket scientist or our nippy centre back Doherty it is indeed Frankensteins monster.
Ages ago, before sky had chosen to televise the Notts County game my wife had booked tickets to see Jonnie Lee Miller (trainspotting) and the bloke out of Sherelock (something Cumberbatch) in a new production of Frankenstein at the national. I've tried to get out of it, but to no avail. So the challenge tomorrow will be to get back to Dartford without finding out the score and watch the game 'live' having sky plussed it! This on top of resigning from my job.
As for the game itself a difficult one to call. With a pretty dreadful home record (county have not won at home since January 3rd) and our decent away record we might fancy getting maximum points ( and boy do we need them ). Despite being at the wrong end of the table, County don't have a negative goal difference and a consistent goal scorer in Hughes (horrible bloke). I'm thinking the best we could hope for is a 1-1 scoredraw. Mind you, of late I'm usually wrong, so here's hoping I keep up that particularbtradition in my predictions.